Hillary
A visitor to Clinton's WEBsite could open tabs related to ethnic, religious, and sexual minorities, but not one related to a shared vision of American community.
694 emails Hillary Clinton 'just couldn't seem to find ... again.'
Judicial Watch has uncovered at least 694 emails that Hillary Clinton failed to turn over to the State Department -- emails showing the mishandling of classified info, pay-for-play, and special favors between the Clinton State Department & the Clinton Foundation. That's why Judicial Watch continues to call for a new & serious investigation into Clinton's corrupt actions. Learn more here: http://jwatch.us/UdonEw
Hillary Re-enters Spotlight To Join Lib Underground, Announces She is Now
"Part Of The Resistance"
Posted By: Sam Di Gangi 3 May 2017




The elite and our "masters" in government love to toy with the language. Co-opting the language of the Tea Party, for instance, ushered in a lot of fakers who all but killed the movement for a time. Yesterdays neocons were today's libertarians, or so they said, until John Boehner came in and showed everyone how just stealing a few words and changing their meanings can fool a whole movement (again).




Failed presidential candidate, Hillary Clinton, is not above using such tactics as she tries to find direction not just for herself, but her listless party, as well. No one in all of the media has been as hard on the Clinton corruption machine as Alex Jones of Infowars and Prison Planet, so in order to confuse those who hear but don't follow the news, she said, "I'm back to now being an activist citizen and part of the resistance," at the Women for Women International 2017 annual luncheon in New York.


https://youtu.be/LCPfMCdaUEM https://teddystick.com/hillary-re-enters-spotlight-to-join-lib-underground-announces-she-is-part-of-the-resistance-now/?utm_source=Email&utm_medium=Aweber&utm_campaign=3_May-1


July 26, 2016, 1:00 am

In his speech at the Republican convention last week, Ben Carson made a statement that raised some eyebrows. Now, one of the things that I have learned about Hillary Clinton is that one of her heroes, her mentors, was Saul Alinsky, said Carson. "And her senior thesis was about Saul Alinsky. This was someone she greatly admired."



06-08-16
Between 2013 and 2015, Hillary Clinton received $21,667,000 from corporations, supposedly as speaking fees priced at a $225,000 minimum per speech. In truth, they were fees for political influence.
NY Post
posted 2016 May 28
Nov. 5, 2015
More Emails Released by State Dept. Contradict Hillary Clinton's Benghazi Testimony
A new batch of emails from Hillary Clinton's server contradict the official media narrative that Hillary Clinton did a great job in her testimony before the House Benghazi Committee, answering an assortment of questions regarding reckless sharing of classified information. First, the emails described by Fox News contradict Clinton's statements about the role played by Sidney Blumenthal. At the House Benghazi Committee hearing, Clinton described Blumenthal as an informal correspondent. "He's a friend of mine. He sent me information he thought might be of interest," she said. "Some of it was, some of it wasn't, some of it I forwarded to be followed up on. He had no official position in the government. And he was not at all my adviser on Libya."
Hillary Clinton Says Former Presidents Shouldn't Have To Disclose Criminal History
During a speech to the Charleston chapter of the NAACP on October 30, Democratic presidential candidate Hillary Clinton discussed criminal justice reform. What kind of criminal justice reform? In her words, the kind that makes it so "former presidents won't have to declare their criminal history at the very start of the hiring process."



http://www.breitbart.com/big-government/2015/11/03/emails-released-state-dept-contradict-hillary-clintons-benghazi-testimony/

5 scandals the media is missing
Hillary Clinton can condemn Republicans as her enemies, dismiss the Veterans Administration scandal as not widespread, and get caught lying about what she knew about Benghazi and when she knew it ‑ but the mainstream media doesn't seem to give a damn.

This is exactly what Sen. Marco Rubio meant when he said: The Democrats have the ultimate Super PAC: It's called the mainstream media.




1. The Clinton Foundation scandal

In my book Unlikeable: The Problem with Hillary, I interviewed people who had firsthand knowledge of Hillary's unethical — and perhaps illegal — conflict of interest between her official role as secretary of state and her private interests in the Clinton Foundation.




2. The uranium sale scandal

During her time at the State Department, Hillary voted to approve the sale of more than 20 percent of the United States' uranium production capacity to Rosatom, the Russian atomic energy agency.




3. The younger brother scandal

While Hillary was secretary of state, her younger brother, Tony Rodham, was appointed to the advisory board of VCS Mining, a US-based company that received a gold-mining contract in Haiti. At the time, Bill Clinton was the UN special envoy to Haiti, and Hillary had a decisive say over America's multimillion-dollar relief efforts in that earthquake-ravaged country. Tony Rodham admitted that he met the chief executive of VCS Mining at a meeting of the Clinton Global Initiative. "I deal through the Clinton Foundation," Tony told a reporter. "That gets me in touch with the Haitian officials. I hound my brother-in-law, because its his fund that were going to get our money from."

,br>

4. The son-in-law scandal

Bill and Hillary were never enthusiastic about Chelseas 2010 marriage to Marc Mezvinksy, whose father, Edward, spent 80 months in prison for bank, mail and wire fraud. But when Chelsea announced she was pregnant in the spring of 2014, the Clintons attitude toward Marc underwent a noticeable change. Marc became more than a friend of the Clinton family; he was now a friend with benefits. He met with a series of wealthy investors who had close ties to Bill and Hillary, including Lloyd C. Blankfein, the CEO of Goldman Sachs, which had paid Bill millions of dollars for speeches. Some of the moneymen who invested heavily in Marc's hedge fund, Eaglevale Partners, lost their shirts when his investments in Greek bank stocks went bust.




5. Hillary's health scandal

This past summer, Hillary's campaign released a report from her personal physician, Dr. Lisa Bardack, which said that Hillary had recovered from a concussion and a blot clot on her brain that caused her to faint in 2012. But that was not the whole story. In fact, Hillary's uncertain health — including blinding headaches, dizziness, and a trembling in her hands — has forced her to cancel several meetings and cut back on her campaign schedule. She tells friends that her doctors can't find any definitive problem, but Bill Clinton is so worried about her health situation that he urged her to travel with a full-time doctor to prevent another fainting spell, which could doom her campaign for president.




http://nypost.com/2015/11/02/5-hillary-scandals-the-media-is-missing/
Hillary Supporters Endorse SHARIA LAW in AMERICA!
Nov 5th 2015

https://www.youtube.com/watch?v=oKosd0xJadE
3 days ago ... Hillary Clinton supporters in California mindlessly agree with anything and everything Hillary supposedly says. In an experiment, media analyst
VIDEO: Hillary Clinton Supporters Endorse SHARIA LAW in ...

http://pamelageller.com/2015/11/hillary-clinton-supporters-endorse-sharia-law-in-america.html/
2 days ago ... Half-naked Hillary supporters championing the imposition of sharia law in the US. Yes, gender apartheid, female genital mutilation, women as
Watch: Clueless Hillary Supporters Say They Support Sharia Law ...

http://www.hannity.com/articles/election-493995/watch-clueless-hillary-supporters-say-they-14088076/
3 days ago ... In their defense, they most likely explanation is that these supporters don't know what Sharia Law is. Then again... Watch the clueless Hillary
CALIPHORNIA: Hillary Clinton supporters are in favor of expanding ...


http://www.barenakedislam.com/2015/11/02/caliphornia-hillary-clinton-supporters-are-in-favor-of-expanding-sharia-law-in-america/

3 days ago ... And so today in universities created by the Christian legacy, people admire Hillary Clinton, though formed, and find it wonderful to Sharia law,
Prison Planet.com » Video: Hillary Supporters Want Sharia Law In ...

http://www.prisonplanet.com/video-hillary-supporters-want-sharia-law-in-america.html
3 days ago ... Lefty trendies will support anything if they think Hillary is an advocate. Steve Watson Prisonplanet.com. November 2, 2015. Activist prankster
Watch Clinton supporters cheer for Sharia law - Personal Liberty


https://personalliberty.com/watch-clinton-supporters-cheer-for-sharia-law/


3 days ago ... In an experiment, media analyst Mark Dice tells Hillary fans that one of her primary campaign promises is to implement Sharia law in America.

Interesting, yet Sharia law does not allow the female to vote, show flesh, female circumcision, rape is the woman's fault, honor killings, can be wed at virtually any age, are treated no better than dogs ('don't beat your wife too severely' is says), 3 wives, unlimited concubines, oh, and if you are not a Muslim, you have no rights and even if you do convert, you will be a second class citizen forever.



BOMBSHELL: Hillary Will Refuse to Hand Over Her Benghazi Notes to Trey Gowdy [VIDEO]
July 24th, 2014
Refusing to cooperate with an investigation into a government cover up isn't the best way to persuade people of your innocence in the matter.
Unfortunately, that bit of common sense seems to have flown over the head of former Secretary of State Hillary Clinton who is refusing to hand over her notes on the Benghazi terrorist attack to Rep. Trey Gowdy and the select committee investigating the incident.

Much of the American public is already convinced that Clinton has lied about the events that transpired that night in order to protect Barack Obama's 2012 presidential campaign.
Lying is something that comes naturally to the former first lady as she's done a lot of it to further her career. Clinton lied while on a Watergate investigation committee, and bent the truth to help a child rapist escape prison, so no cause is too nefarious for her to employ her "talents."
According to the Washington Free Beacon, Cynthia McFadden conducted an interview with Hillary Clinton from NBC Nightly News, where she stated that she had no plans of handing over her notes to Gowdy, and said she was sketchy about testifying because she didn't want to "politicize" the matter.

CYNTHIA MCFADDEN: You write in great detail in the book about what was happening in Benghazi as it evolved. Did you keep a diary during your time?
HILLARY CLINTON: I kept a lot of notes.
MCFADDEN: If the committee wants your notes, would you turn those over?
CLINTON: They can read it in the book. Let's see whether this is on the level or not because that really matters to me. I don't want to be part of something which, in any way, politicizes or demeans the sacrifice that we saw happen there.

Unbelievable. "Draft Ben Carson" Campaign is Beating Hillary in Fundraising" href="http://conservativetribune.com/carson-beating-hillary-fundraising/" target="_blank">Hillary Clinton continues to prove, on an almost daily basis, why she shouldn't be considered for a potential presidential run in 2016. It's clear from the corruption that oozes from this woman's pores, she plans on continuing the progressive nightmare Barack Obama started during his presidency.
As things come to light on Benghazi, and her role in the matter becomes clear, criminal charges should be pursued. Clinton's actions caused the deaths of American citizens, and this is the result of her refusal to comply with laws governing her role in arranging adequate security for her staff. Accountability is necessary here if we want to avoid another tragedy like this in the future.
Please share this article on Facebook and Twitter if you support Rep. Trey Gowdy's investigation into Benghazi and believe Hillary Clinton should be forced to hand over her notes.
WHY IS HILLARY CLINTON NOT INCARCERATED?
SHE is a presidential candidate and
laws are not made for the U.S. elite! <sic>
EIGHT QUOTES FROM 8 DIFFERENT BOOKS, All about Hillary.

Bill Clinton's five minute TV ad for Hillary, Corrections.

Hillary Clinton aide HASSAN ABEDIN has links to Muslim Brotherhood

Short history trivia test
Six trivia questions to see how much history you know. Be honest, it's kinda fun and revealing.
If you don't know the answer make your best guess.

Answer all the questions (no cheating) before looking at the answers.
Who said it?
1) "We're going to take things away from you on behalf of the common good."
A. Karl Marx
B. Adolph Hitler
C. Joseph Stalin
D. None of the above
2) "It's time for a new beginning, for an end to government of the few, by the few, and for the few......
And to replace it with shared responsibility, for shared prosperity."
A. Lenin
B. Mussolini
C. Idi Amin
D. None of the Above
3) "(We) .....can't just let business as usual go on, and that means something has to be taken away from
Some people."
A. Nikita Khrushchev
B. Josef Goebbels
C. Boris Yeltsin
D. None of the above
4) "We have to build a political consensus and that requires people to give up a little bit of their own ...
In order to create this common ground."
A. Mao Tse Dung
B. Hugo Chavez
C. Kim Jong Il
D. None of the above
5) "I certainly think the free-market has failed."
A. Karl Marx
B. Lenin
C. Molotov
D. None of the above
6) "I think it's time to send a clear message to what has become the most profitable sector in (the) entire economy that they are being watched."
A. Pinochet
B. Milosevic
C. Saddam Hussein
D. None of the above
Answers
(1) D. None of the above. Statement was made by Hillary Clinton 6/29/2004

(2) D. None of the above. Statement was made by Hillary Clinton 5/29/2007

(3) D. None of the above. Statement was made by Hillary Clinton 6/4/2007

(4) D. None of the above. Statement was made by Hillary Clinton 6/4/2007

(5) D. None of the above. Statement was made by Hillary Clinton 6/4/2007

(6) D. None of the above. Statement was made by Hillary Clinton 9/2/2005
Want to know something scary? She may be the next president!!!!!!!!!!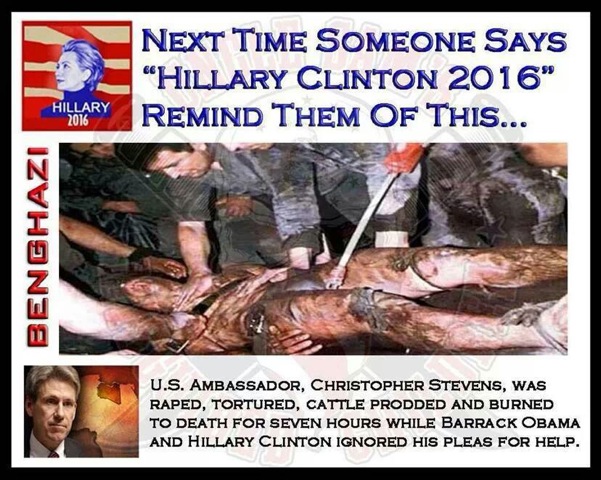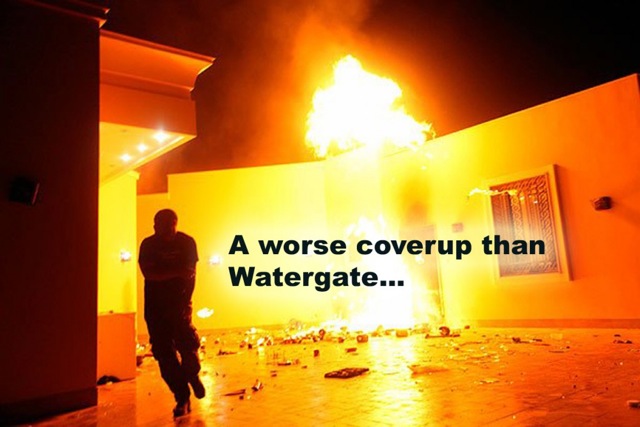 "What difference does it make?"
Quote from Hillary concerning Benghazi. It wasn't her ass on the line, why to hell should she care?
Quote of the day, no, of the week, make that a month. Yet it probably is quote of the year ! No. DECADE. Wait a minute.
It's the greatest quote ever !
"My accomplishments as Secretary of State? Well, I'm glad you asked!
My proudest accomplishment in which I take the most pride, mostly because of the opposition it faced early on, you know… the remnants of prior situations and mind sets that were too narrowly focused in a manner whereby they may have overlooked the bigger picture and we didn't do that and I'm proud of that. Very proud.
I would say that's a major accomplishment."
Hillary Clinton 11 March 2014
Could someone please tell me what the hell she just said?
And she may be running for President?
Cash Flowed to Clinton Foundation Amid Russian Uranium Deal
April 23, 2015, New York Times

The headline on the website Pravda trumpeted: "Russian Nuclear Energy Conquers the World." The article, in January 2013, detailed how the Russian atomic energy agency, Rosatom, [became] one of the world's largest uranium producers and brought Mr. Putin closer to his goal of controlling much of the global uranium supply chain. Major donors to the charitable endeavors of former President Bill Clinton and his family ... built, financed and eventually sold off to the Russians a company that would become known as Uranium One. Beyond mines in Kazakhstan that are among the most lucrative in the world, the sale gave the Russians control of one-fifth of all uranium production capacity in the United States.

March 23, 2017 11:00 pm
Hillary For Prison
(True Pundit) — New York Police Department detectives and sources working an underage child pornography case against Anthony Weiner confirm the laptop seized from the former congressman contains proof that Hillary Clinton knew he was engaging in a long sexual relationship with a minor but did not intervene to alert any state or federal authorities to protect the 15 year old.

Not blowing the whistle on the serial sexter allowed Weiner to keep sexting the youth via cell phone and internet chats for approximately another four more months, NYPD sources said. While Clinton was busy campaigning to be the first female US president with Weiner's wife and aide Huma Abedin, he was at home sending the 15-year-old online porn and divulging his rape fantasies to the girl, NYPD sources said. Weiner also apparently talked on the telephone with the girl, based on intelligence gleaned from the laptop.

Instead of rescuing the minor from a sex-obsessed Weiner, Clinton who was the Democratic presidential candidate at the time and eventual front runner, counseled her long time aide Abedin, to end her relationship with him because bad publicity could harm the campaign. NYPD officials said Clinton and Abedin discovered Weiner's sexting with the minor in April 2016 and that he had already been corresponding with the youth for months.

Neither Clinton nor Abedin apparently did anything to stop the abuse of the minor. Instead, the repeated incidents — which breach a host of state and federal laws — were kept quiet.