Science News Week of July 1, 2006; Vol. 170, No. 1 , p. 6
Ben Harder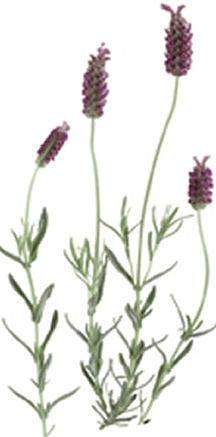 PURPLE POSE. Skin and hair products containing the essence of lavender plants could disrupt the balance of sex hormone activity in children.
Two ingredients common in many hair- and skin-care products have been linked to abnormal development of breasts in boys. Lavender oil and tea tree oil contain compounds that act like female sex hormones and interfere with male hormones, researchers have determined.
Enlarged male breasts, or gynecomastia, result from an imbalance between the activity of estrogens, which stimulate breast growth and estrogen-inhibiting and rogens. The condition is extremely rare before puberty, says Denver-area pediatric endocrinologist Clifford Bloch. Nevertheless, since the mid-1990s, Bloch has treated gynecomastia in a series of boys age 10 or younger. Most had normal ratios of sex hormones in their blood, indicating that theirs wasn't a problem of hormone production.
From the youngsters and their parents, Bloch learned that at least five boys had been using a shampoo, hair gel, soap, or another topical product that listed lavender oil among its ingredients. One of the products also contained tea tree oil. "A couple of patients were putting pure lavender oil on their skin," he says. Bloch recommended that the boys stop using lavender-containing products. When they followed his advice, gynecomastia disappeared within a few months.
To verify his hunch that the plant oils were hormonally active, Bloch contacted Derek Henley and Kenneth Korach of the National Institute of Environmental Health Sciences in Research Triangle Park, N.C. In their lab, the two investigators exposed human-breast cells to lavender oil and, separately, to tea tree oil. They found that each oil turned on estrogen-regulated genes and inhibited an androgen-regulated gene.
"These oils possess both estrogenic and anti-androgenic properties," Henley reported at the Endocrine Society meeting in Boston this week. He adds that the finding is the first to implicate "essential oils" from plants in gynecomastia.
Young boys should avoid the oils, Bloch advises. Many personal-care products contain them. Other plant products act like estrogen's in the body (SN: 5/25/02, p. 325: http://www.sciencenews.org/articles/20020525/fob5.asp).
Pediatric endocrinologist Edward Reiter of Tufts University School of Medicine in Springfield, Mass., applauds Bloch for his "impressive, Sherlock Holmes" performance in unearthing what the boys had in common. While similar patients probably trickle in to other endocrinology clinics, he says, the cause of their enlarged breasts could escape diagnosis because doctors don't make the connection to personal-care products.
"If I had seen [just] one of those kids, I'm sure I would have missed it," he says. The rapid reversal of gynecomastia that Bloch accomplished is a rare achievement in medicine, comments Ken Ong, a pediatric endocrinologist at the Medical Research Council in Cambridge, England. As such, it strongly suggested a link between the products and the boys' problem.
The plant essences presumably have similar potential effects in young girls, Reiter says. Studies show a recent rise of early breast development in girls (SN: 9/9/00, p. 165: http://www.sciencenews.org/articles/20000909/fob3.asp). Pre-pubertal children have low sex hormone concentrations, so relatively small amounts of hormone-mimicking compounds might upset their physiologic balance at that age, says Reiter.
References:
Henley, D.V., C.A. Bloch, and K.S. Korach. 2006. Components of health care products associated with male pre-pubertal gynecomastia possess estrogenic and antiandrogenic activities. Endocrine Society meeting. June 24-27. Boston.