Pelosi
How do fools like this get into congress?
01-29-09
Speaker of the House Nancy Pelosi's home district includes San Francisco.
Star-Kist Tuna's headquarters are in San Francisco, Pelosi's home district.
Star-Kist is owned by Del Monte Foods and is a major contributor to Pelosi.
Star-Kist is the major employer in American Samoa employing 75% of the Samoan work force.
Paul Pelosi, Nancy's husband, owns $17 million dollars of Star-Kist stock.
In January, 2007 when the minimum wage was increased from $5.15 to $7.25, Pelosi had American Samoa exempted from the increase so Del Monte would not have to pay the higher wage. This would make Del Monte products less expensive than their competition's.
Last week when the huge bailout bill was passed, Pelosi added an earmark to the final bill adding $33 million dollars for an 'economic development credit in American Samoa'.
Pelosi has called the Bush Administration "CORRUPT"? How do you spell "HYPOCRISY"?
EVERY AMERICAN SHOULD GET THIS E-MAIL. IT IS ENOUGH TO MAKE A HOLY PERSON ANGRY ENOUGH TO GO THROW THEM ALL OUT ON THEIR BEHINDS.

01-07-11

Pelosi, Obama Hawaiian Vacations Come to an End, But Taxpayers Left with the Bill
BY MALIA ZIMMERMAN
– Nancy Pelosi's final days as Speaker of the House were spent at the exotic Four Seasons Resort Hualalai at Historic Ka'upulehu in Kona on the island of Hawaii.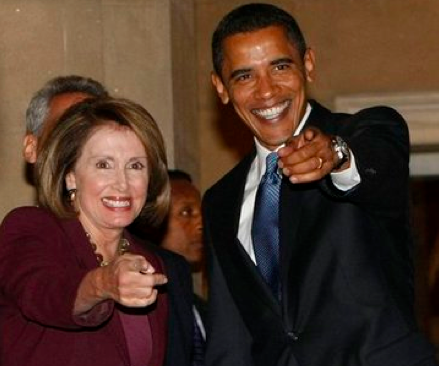 Escorted throughout her trip by a mini security motorcade that included Secret Service and Hawaii County Police officers, Pelosi was seen at St. Michael's Catholic Church in Kailua-Kona, where she received Communion. Parishioners greeted her warmly, Hawaii Reporter was told. Two police SUVs were on guard outside the hotel during her week long stay.
Pelosi, who traveled to Hawaii by private plane, spent the holidays in Kona last year at the same hotel in an elaborate suite that reportedly rents for $10,000 a night.
The Four Seasons Resort Hualalai's details its luxurious setting and amenities on its web site: "Gloriously revitalised, this natural tropical paradise offers more than ever to explore – with a newly expanded Spa, beachfront dining, fashion boutiques and new Deluxe Suites, in addition to Jack Nicklaus signature golf. Set on the Big Island's exclusive Kona-Kohala Coast, this showpiece resort captures the essence of Hawaiian design, culture and tradition."
Pelosi has her share of allies in Hawaii, including Hawaii Gov. Neil Abercrombie, who she defended during his successful campaign for governor in 2010. Pelosi, a Democrat who will be replaced as House Speaker by GOP Congressman John Boehner in a matter of days, served in Congress with Abercrombie. When Democratic Gubernatorial Candidate Mufi Hannemann claimed during the primary that Abercrombie was not effective in Congress, Pelosi issued a statement calling Abercrombie "outstanding, effective and courageous."
Hawaii Reporter has requested information from the Police on taxpayers' costs to guard her. Last year, Hawaii county taxpayers paid more than $21,000.
This year, the county estimates have not yet been provided to Hawaii Reporter; the request is pending. However, the Hawaii Police Department does not release the number of police officers escorting Pelosi, how many hours they dedicated to Pelosi's security detail, or whether they were being pulled from other duties. No figures could be obtained for her Secret Service escorts.